Bio
January 6th 1984, Valledupar, Colombia Swedish citizen; Resident of Uppsala, Sweden
Interests
Music, Painting, Science, Illustration & Web design, Baking
Contact
Address:
Evolutionary Biology Centre, EBC
Norbyvägen 18A
752 36 Uppsala
Sweden
E-mail:
daniel.ocampo.daza /at/ gmail.com
Current position
2017 - Postdoctoral research fellow
Uppsala University, Department of Organismal Biology -
Evolution and Development
. Funded by the
Swedish Research Council
.
Experience
I received my M.Sc. in biology from Uppsala University in 2007 and subsequently pursued a doctorate under the supervision of prof. Dan Larhammar at the Department of Neuroscience, Uppsala University. I defended my thesis
"Evolution of Vertebrate Endocrine and Neuronal Gene Families: Focus on Pituitary and Retina"
on 1 March 2013, receiving a Ph.D. in medical science.
Awards and honors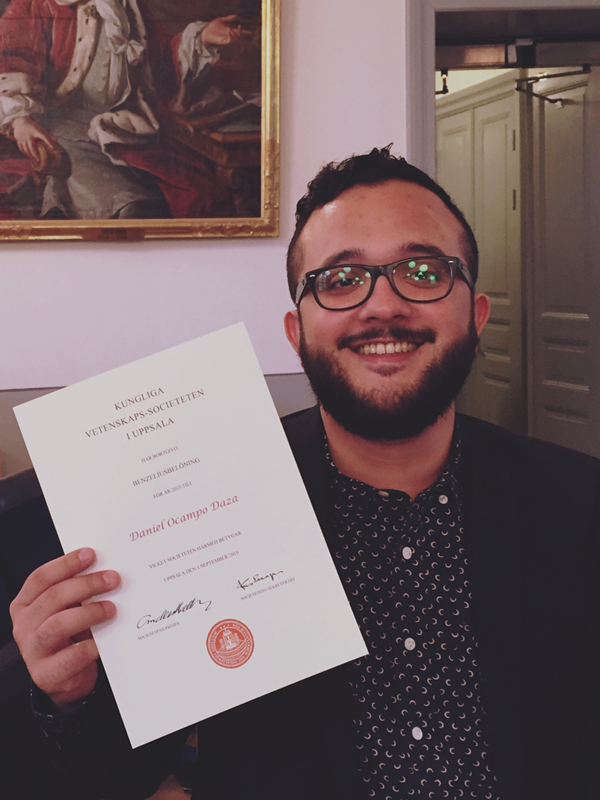 The Royal Society of Sciences in Uppsala
awarded me the 2015 Benzelius prize in the Biology-Medicine class, with the motivation -
"For your pre-eminent studies of vertebrate genomes
". The prize was confered at a public ceremony in Uppsala on September 1, 2015. The Royal Society of Sciences in Uppsala is Sweden's oldest scientific academy, founded in 1710, and counts Carl Linnaeus, Olof Rudbeck the younger and Anders Celsius among its early members. The Benzelius award, named for the founder of the society, Erik Benzelius the younger, was founded in the 1980's to promote and reward young researchers.
Skills summary
Evolution, Neuroscience, Comparative endocrinology, Scientific writing, Molecular evolution, Sequence analysis, Phylogenetics, Genome Analysis, Gene prediction and annotation, Bioinformatics
Languages
Native/bilingual proficiency in Spanish and Swedish
Full professional proficiency in English
Education
2013 — Ph.D. in Medical Science
Uppsala University, Department of Neuroscience
2007 — M.Sc. in Biology
Uppsala University